Overnight Canoe Camping Trip

Overnight Canoe Camping Trip takes place on the Colorado River, from the Montopolis Street Bridge to Texas River School's River Camp. When students arrive at the River Camp, they enjoy hearty meals, a campfire sing-a-long, and a variety of outfoor activities. Students put in at the Montopolis Street Bridge where they are first instructed on paddling skills, river safety, and given tips of how to pack a canoe.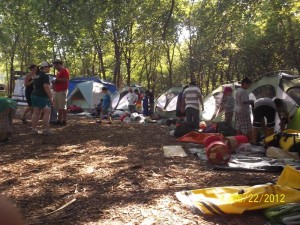 Once on the water, students learn: a variety of water rescue techniques; how to make a human chain to safely cross the river; safe tips on how to take out on the river bank; how to properly set up tents; and how to prepare for all types of weather while camping. Evening sin-a-long often highlight Mr. Habitat, Bill Oliver, in company with Miss Lucinda Clearwater, Linda Overton. During the second day of the trip, participants enjoy a hearty breakfast, join in a variety of activities, and spend more time on the water. They also learn about nature photography and experience participating in the joy of small service projects, such as watering the garden or caring for newly planted trees. The River Camp adventure ends with the break-down of camp, followed by lunch.
Lessons include:
Trip planning – safety, weather, equipment
Packing food
Canoe skills
River safety
Eating on the river
Canoe-over-canoe rescue
Human chain (a techinique to move a group of people from one side of the river to the other when there is a current)
Take-out
Loading equipment
Setting up tents
Breaking down camp
Mess kits and eating while camping
Fire building
The Power of a Song – sing-a-long
Service project
Nature photography
Fishing
Check out Pam LeBlanc's May 2012 Austin American Statesman article about the TRS Overnight Canoe Camping Trip
Create your own Overnight Camping Trip