Colorado River Downstream of Lady Bird Lake at the Texas River School River Camp
Location:  The Texas River School River Camp is an acre of leased-access fishing, boating, and camping area located in eastern Travis County on the northern bank of the Colorado River, approximately four miles downriver of the Montopolis Street Bridge crossing. The River Camp is accessible from Farm to Market Highway 969 as well as the river.
Area Description:  The River Camp has approximately 225 feet of river access for bank fishing, and serves as a boat launch as well as both a day-use facility and overnight campground. Amenities include one environmental toilet (soon to be two), picnic tables, a campfire ring, and eight primitive campsites.  It is located on the Colorado River in east Austin, with black land prairie soil. The Camp is located five miles downriver from Longhorn Dam, 3.5 miles downriver from the Montopolis Bridge, five miles upriver from the Hwy 973 take out, 17.5 miles upriver from Little Webberville Park and 22.5 miles from Big Webberville Park. It is 50 miles upriver from Bastrop and 284 miles from the Gulf of Mexico.
Special Conditions on Public Use:  Public access is available to the area between November 1, 2012 and August 31, 2016.  Advance reservations must be secured through the Texas River School by calling (512) 289-0750. You must receive the two different gate codes to gain access. Hiking and camping is restricted to designated areas.
Fishing Regulations: All species are currently managed under statewide regulations.
River Flow: Monitor the flow rate at Hydromet (click the 122 meter for specifics) or with the USGS.
Boat Rentals: Texas River School has a fleet of 50 boats and ample lifejackets and paddles. Options include shuttle (with a fee), individual boat rental, and guided tours. Please call for more information regarding all of these options.  Mud Outdoor Center (MOC) also rents boats and are located approximately 4.5 miles upriver from the River Camp.
Entrance Fees and Camping Rates: There is a $5.00 per person (12 and older) fee for entry to the River Camp, $2.50 for 12 and under. Day use hours of access are from 8:00 am through sunset. Campsites are $15 per night plus the entrance fee per person. Each campsite can have up to six people and two tents, and is reserved from 12 pm of the day of arrival through 12 pm the day of departure. No fires are permitted, other than in the campfire ring provided in the middle of camp. Use of gas cook stoves is permitted.The private use of the whole campground will be $300 per night (which includes entrance fees). Rates vary concerning upcoming Austin and area events, including F1, Austin City Limits Festival, and SXSW. Please call for special event rates.
Pack It In, Pack It Out: Texas River School strives to leave our environment cleaner and more natural than when we found it. The River Camp is a perfect example of that. Check out the history of the camp below. Therefore, we encourage and expect all visitors to do the same by taking any trash out of the campground and disposing  of the trash properly. Leave No Trace!
Parking: With a preferred maximum of two vehicles per campsite and due to the Critical Water Quality Zone, vehicles must be parked on the outside of the gate that encloses the River Camp. There will be a sign designating parking spaces. If you must unload your vehicle, please do so promptly, without leaving the vehicle for more than 30 minutes. This is only to unload boats and camping equipment.
Pets: All pets must be kept under control – cleaned up after, non-harmful, and not allowed to be a nuisance (including barking excessively).
The River Camp History
How Joe and Wayne are protecting land and creating a legacy

The River Camp is located on the Colorado river about five miles downriver from the Longhorn Dam and Lady Bird Lake. The River Camp became a reality when Joe Kendall and Wayne Gronquist started acquiring lots in the 70 lot / 25 acre Imperial Valley subdivision that had originally been planned for residential development.
After the development was deemed un-buildable due to its location within the 100 year flood plain, lot owners began neglecting the land, which quickly fell into disarray. Prostitution, illegal dumping, and drug use became rampant. However, after the Texas River School acquired several acres within the development, formed a Land Owner's Association, installed a gate, removed hundreds of thousands of pounds of trash, and have continued to notify lot owners of their duty, the subdivision has become much safer and more peaceful.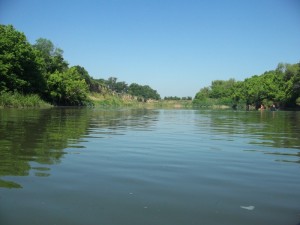 The River Camp now boasts a solar power system, a water collection system, an organic garden, tent sites, a camp-fire area, and river access. With additional grants, the River School plans to improve and protect access to both the camp and the river.
Visit, Rent a camp site, or plan a camping trip!