Texas River School and Executive Director Joe Kendall were recognized on Monday, November 23, 2015, as SBCA's Partner of the Year at the 36th Annual Save Barton Creek Association Awards Banquet. Olivia Hayden, Director of Development & Community Relations for SBCA, presented the award.
Recognition stemmed from the partnership Texas River School has had with SBCA over the last six years as recipient of the Community Outdoor Outreach Program (CO-OP) Grant. "This has been the necessary seed capital and one of the few unrestricted grants that provides us with the funds to actually go out and write grants," Joe stated. "This partnership will g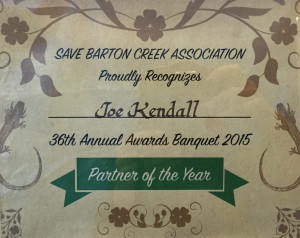 row because of new grant opportunities and the young people on our staff."
Joe continued by saying, "I cut my teeth with SBCA. You were the first environmental organization I was associated with, and I want to thank all of you who went to the meetings every Monday night and to council meetings on Thursday nights, you all did the hard work. I found my niche in outfitting trips, and with the help of Wayne Gronquist I started doing trips and became SBCA's outfitter, something I want to continue doing in the future."
On-hand to help accept the award was the TRS staff and several members of the Board of Directors. Joe took particular pride in introducing his younger staff who "are a serious, enthusiastic, experienced group of young people ready to take over the program." Congratulations Joe Kendall and Texas River School.