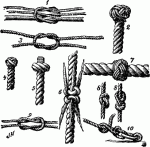 Have you ever looked up different types of knots? Wow. Mind boggling. I am going to attempt to narrow down the types of knows that we use for paddling and canoeing, and for loading our gear. I would love to have a knot tying exercise sometime with our campers too. Which do you use?
Categories and Knots according to NetKnots.com
Loops – Favorite: the Running Bowline or Slip Knot.
Bends – Favorite: Sheet Bend
Hitches – Favorite: Slip Knot again.